Oxidative stress and inflammatory parameters in adult patients presenting with celiac disease
Alexandre Faraco

Faculdade de Medicina – Universidade do Extremo Sul de Santa Catarina – Avenida Universitária 1105, Bairro Universitário - Criciúma - SC

Eliel Machado Rovaris

Faculdade de Medicina – Universidade do Extremo Sul de Santa Catarina – Avenida Universitária 1105, Bairro Universitário - Criciúma - SC

Priscila Waleska Simões

Faculdade de Medicina – Universidade do Extremo Sul de Santa Catarina – Avenida Universitária 1105, Bairro Universitário - Criciúma - SC

Monique Michels

Programa de Pós Graduação em Ciências da Saúde – Laboratório de Fisiopatologia - Universidade do Extremo Sul de Santa Catarina – Avenida Universitária 1105, Bairro Universitário - Criciúma - SC

http://orcid.org/0000-0001-8440-1976

Kristian Madeira

Programa de Pós Graduação em Ciências da Saúde – Laboratório de Epidemiologia - Universidade do Extremo Sul de Santa Catarina – Avenida Universitária 1105, Bairro Universitário - Criciúma – SC

Samira Dal-Toé de Prá

Programa de Pós Graduação em Ciências da Saúde – Laboratório de Bioenergética - Universidade do Extremo Sul de Santa Catarina – Avenida Universitária 1105, Bairro Universitário - Criciúma – SC

Andriele Vieira

Programa de Pós Graduação em Ciências da Saúde – Laboratório de Fisiopatologia - Universidade do Extremo Sul de Santa Catarina – Avenida Universitária 1105, Bairro Universitário - Criciúma - SC

Henrique Burger

Programa de Pós Graduação em Ciências da Saúde – Laboratório de Fisiopatologia - Universidade do Extremo Sul de Santa Catarina – Avenida Universitária 1105, Bairro Universitário - Criciúma - SC

Beatriz Sonai

Programa de Pós Graduação em Ciências da Saúde – Laboratório de Fisiopatologia - Universidade do Extremo Sul de Santa Catarina – Avenida Universitária 1105, Bairro Universitário - Criciúma - SC

Emilio Streck

Programa de Pós Graduação em Ciências da Saúde – Laboratório de Bioenergética - Universidade do Extremo Sul de Santa Catarina – Avenida Universitária 1105, Bairro Universitário - Criciúma – SC

Felipe Dal-Pizzol

Programa de Pós Graduação em Ciências da Saúde – Laboratório de Fisiopatologia - Universidade do Extremo Sul de Santa Catarina – Avenida Universitária 1105, Bairro Universitário - Criciúma - SC
Resumo
Celiac disease is a chronic small intestinal inflammatory condition caused by an inappropriate immune response to gluten of wheat, rye and barley, with a prevalence of about 1: 100 in the Caucasian population when occurs a inflammatory response and seems to involve high levels of interleukins. Objective: Determine the presence of oxidative stress and inflammation in the gut of patients with CD. Methods: Transversal study that included patients undergoing upper gastrointestinal (GI) endoscopy was performed. The study population consisted 24 cases and 26 controls. The duodenal levels of protein carbonyls, thiobarbituric acid reactive species (TBARS), as well as catalase (CAT), superoxide dismutase (SOD) activities were measured. Gut levels of interleukin (IL) 6, 10 and 8 were also determined. The Marsh classification was recorded and used as a parameter of disease severity. Results: Both IL-6 and IL-10, but not IL8, were increased in CD patients when compared to healthy individuals. Oxidative damage parameters were increased while antioxidant defenses were decreased in our sample. Both IL6 levels and SOD activity were related to Marsh score. Conclusions: Different markers of inflammation and oxidative stress are altered in the gut of CD patients, and some of them are related to disease severity.
Downloads
Não há dados estatísticos.
Referências
AEBI H. 1984. Catalase in vitro. Methods Enzymol. 1984;105:121–6.
BANNISTER JV, CALABRESE L. Assays for superoxide dismutase. Methods Biochem Anal. 1987;32:279–312.
BEITNES AR, RÁKI M, BROTTVEIT M, LUNDIN KE, JAHNSEN FL, SOLLID LM. Rapid Accumulation of CD14+CD11c+ Dendritic Cells in Gut Mucosa of Celiac Disease after in vivo Gluten Challenge. PLoS One. 2012;7(3): e33556.
BENJAMIN D, KNOBLOCK TJ, DAYTON MA. Human B cell interleukin-10 cell lines derived from patients with acquired immunodeficiency syndrome and Burkitt's lymphoma constitutively secrete large quantities of interleukine-10. Blood. 1992;80(5):1289-98.
BORRELLI M, SALVATI VM, MAGLIO M, ZANZI D, FERRARA K, SANTAGATA S, PONTICELLI D, AITORO R, MAZZARELLA G, LANIA G, GIANFRANI C, AURICCHIO R, TRONCONE R. Immunoregulatory pathways are active in the small intestinal mucosa of patients with potential celiac disease. Am J Gastroenterol. 2013;108(11):1775-84.
CALDER PC, ALBERS R, ANTOINE JM, BLUM S, BOURDET-SICARD R, FERNS GA, FOLKERTS G, FRIEDMANN PS, FROST GS, GUARNER F, LØVIK M, MACFARLANE S, MEYER PD, M'RABET L, SERAFINI M, VAN EDEN W, VAN LOO J, VAS DIAS W, VIDRY S, WINKLHOFER-ROOB BM, ZHAO J. Inflammatory disease processes and interactions with nutrition. Br J Nutr. 2009;101 Suppl 1:S1-45.
CASTELLANOS-RUBIO A, SANTIN I, IRASTORZA I, CASTAÑO L, CARLOS VITORIA J, RAMON BILBAO J. TH17 (and TH1) signatures of intestinal biopsies of CD patients in response to gliadin. Autoimmunity. 2009;42:69–73
DRAPER HH, HADLEY M. Malondialdehyde determination as index of lipid peroxidation. Methods Enzymol. 1990;186:421–31.
EIRÓ N, GONZÁLEZ-REYES S, GONZÁLEZ L, GONZÁLEZ LO, ALTADILL A, ANDICOECHEA A, FRESNO-FORCELLEDO MF, RODRIGO-SÁEZ L, VIZOSO FJ. Duodenal expression of Toll-like receptors and interleukins are increased in both children and adult celiac patients. Dig Dis Sci. 2012;57(9):2278-85.
FRISULLO G, NOCITI V, IORIO R, PATANELLA AK, MARTI A, ASSUNTA B, PLANTONE D, CAMMAROTA G, TONALI PA, BATOCCHI AP. Increased CD4+CD25+Foxp3+ T cells in peripheral blood of celiac disease patients: correlation with dietary treatment. Hum Immunol. 2009;70:430–5.
KALLIOMÄKI M, SATOKARI R, LÄHTEENOJA H, VÄHÄMIKO S, GRÖNLUND J, ROUTI T, SALMINEN S. Expression of microbiota, Toll-like receptors, and their regulators in the small intestinal mucosa in celiac disease. J Pediatr Gastroenterol Nutr. 2012;54(6):727-32.
KONTAKOU M, PRZEMIOSLO RT, STURGESS RP, LIMB GA, ELLIS HJ, DAY P, CICLITIRA PJ. Cytokine mRNA expression in the mucosa of treated coeliac patients after wheat peptide challenge. Gut. 1995;37(1):52-7.
LAVÖ B, KNUTSON L, LÖÖF L, HÄLLGREN R. Gliadin challenge-induced jejunal prostaglandin E2 secretion in celiac disease. Gastroenterologist. 1990;99:703–9.
LEVINE RL, GARLAND D, OLIVER CN. Determination of carbonyl content in oxidatively modified proteins. Methods Enzymol. 1990;186:464–78.
LUCIANI A, VILLELLA VR, VASATURO A, GIARDINO I, PETTOELLO-MANTOVANI M, GUIDO S, CEXUS ON, PEAKE N, LONDEI M, QUARATINO S, MAIURI L. Lysosomal accumulation of gliadin p31–43 peptide induces oxidative stress and tissue transglutaminase-mediated PPARgamma downregulation in intestinal epithelial cells and coeliac mucosa. Gut. 2010; 59:311–9.
MAIURI L, CIACCI C, RICCIARDELLI I, VACCA L, RAIA V, AURICCHIO S, PICARD J, OSMAN M, QUARATINO S, LONDEI M. Association between innate response to gliadin and activation of pathogenic T cells in celiac disease. Lancet. 2003;362:30–7.
MCSORLEY HJ, GAZE S, DAVESON J, JONES D, ANDERSON RP, CLOUSTON A, RUYSSERS NE, SPEARE R, MCCARTHY JS, ENGWERDA CR, CROESE J, LOUKAS A. Suppression of inflammatory immune responses in celiac disease by experimental hookworm infection. PLoS One. 2011;6(9):e24092.
MEDRANO LM, GARCÍA-MAGARIÑOS M, DEMA B, ESPINO L, MALUENDA C, POLANCO I, FIGUEREDO MÁ, FERNÁNDEZ-ARQUERO M, NÚÑEZ C. Th17-related genes and celiac disease susceptibility. PLoS One. 2012;7(2):e31244.
PLANELL N, LOZANO JJ, MORA-BUCH R, MASAMUNT MC, JIMENO M, ORDÁS I, ESTELLER M, RICART E, PIQUÉ JM, PANÉS J, SALAS A. Transcriptional analysis of the intestinal mucosa of patients with ulcerative colitis in remission reveals lasting epithelial cell alterations. Gut. 2013;62(7):967-76.
RÁKI M, TOLLEFSEN S, MOLBERG , LUNDIN KE, SOLLID LM, JAHNSEN FL. A unique dendritic cell subset accumulates in the celiac lesion and efficiently activates gluten-reactive T cells. Gastroenterology. 2006;131(2):428-38.
RUBIO-TAPIA A, HILL ID, KELLY CP, CALDERWOOD AH, MURRAY JA. American College of Gastroenterology. American College of Gastroenterology. ACG clinical guidelines: diagnosis and management of celiac disease. Am J Gastroenterol. 2013;108(5):656-76; quiz 677.
SILVA TSG, FURLANETTO TW. Diagnóstico de doença celíaca em adultos. Rev Assoc Med Bras. 2010;56 (1):122-6.
STOJILJKOVIĆ V, TODOROVIĆ A, PEJIĆ S, KASAPOVIĆ J, SAICIĆ ZS, RADLOVIĆ N, PAJOVIĆ SB. Antioxidant status and lipid peroxidation in small intestinal mucosa of children with celiac disease. Clin. Biochem. 2009;42:1431–7.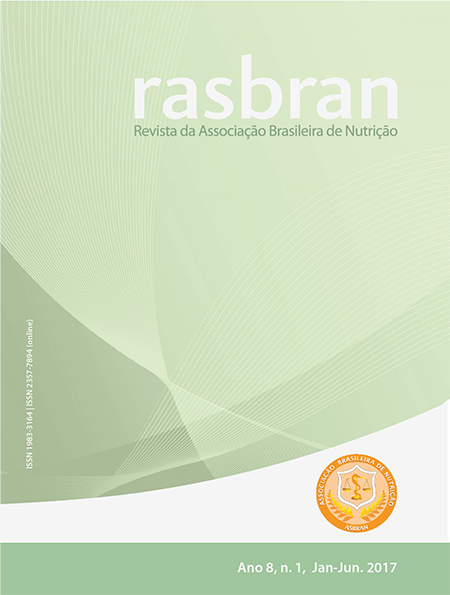 Como Citar
Faraco, A., Rovaris, E. M., Simões, P. W., Michels, M., Madeira, K., de Prá, S. D.-T., Vieira, A., Burger, H., Sonai, B., Streck, E., & Dal-Pizzol, F. (2017). Oxidative stress and inflammatory parameters in adult patients presenting with celiac disease. Revista Da Associação Brasileira De Nutrição - RASBRAN, 8(1), 64-69. Recuperado de https://rasbran.emnuvens.com.br/rasbran/article/view/428
A Revista se reserva no direito de efetuar, se necessário, alterações de ordem normativa, ortográfica e gramatical, com vistas a manter o padrão culto da língua, respeitando, porém, o estilo dos autores.
Ao encaminhar os originais, os autores cedem os direitos de primeira publicação para a Revista da Associação Brasileira de Nutrição e aceitam que seu trabalho seja publicado de acordo com nossa Declaração de Direito Autoral.
Os documentos publicados serão atribuídos a licença

Este trabalho está licenciado com uma Licença Creative Commons - Atribuição 4.0 Internacional.